TV show called The Delinquent Gourmet on food network was featuring a cuisine in Sardinia, Italy.   One  of the Sardinia cuisines is an Eel Pie and the TV host, Rodney went to a local home to learn how to make this pie.
They used very fresh eels.  How fresh?  The eels were still alive and moving !! They chopped the heads off.  I am glad they did not show it.  Then put on top of potatoes and vegetables with spices.  Then covered with a piece of pie dough.  I am sorry but it did not look delicious.
The show does not have a picture so this is the closest I can find.
It looks like this without a head.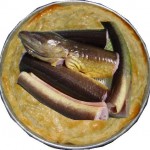 Europeans eat eels like Japanese but their recipes are very different. I tried an eel sandwich in the Netherlands before.  I could not swallow it.   It was just one bite.  I had to spit it out and tried to refresh my mouth by coffee and candy but it did not work.  I felt sick from rich oily taste of the eel.   So when I was watching this show,  I felt sick.  All the oil in eel will stay in the pie. That must be very fishy and much more oiler than the sandwich I had.
Sardinia cuisine is getting popular in Japan.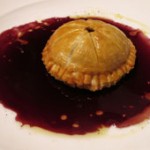 One of the restaurants serves this dish.   I do not think plating is good but Robbie from The Japan times said it was outstanding.  The article says they use Anago which is less oily.  My guess is the chef grilled Anago first before putting into a pie.
The eel is a very oily creature.  But it has lots of vitamin A, B, D, E, and DHA. The eel's nutrition lowers the blood pressure and cleans the blood as well as gives a lot of stamina. So it is especially popular to eat during the hot Summer in Japan.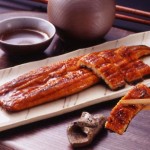 However,  Japanese eel ( Unagi ) preparation & cooking is different.   Unagi is filleted, deboned, and grilled ( called kabayaki ) with sweet sauce ( soy sauce base ) .  People go to the " Unagi Restaurant " which is normally only serves a few Ungai dishes. (  We do not cook fresh eels at home.  Not like Sardinia. )
"Unagi-don"  or " Una-jyu " is Unagi on top of steam rice in a bowl and put lots of sweet sauce.  Another dish is Unagai and a bowl of rice serve separately.  If you like sweet taste, order " Unagi-don". If you want to eat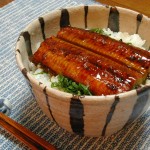 more Ungai and less rice and sauce, order separate one.  There is also a choice of how many pieces of Unagi you want.
Around Nagoya ( Between Tokyo and Osaka )has famous cuisine called " Hitsumabushi" .  They cut grilled eels to small pieces and put on rice,  then add wasabi, green onion or chives and dashi ( Seaweed ( kelp ) & bonito base soup ) .  First, you enjoy the taste of just eel and rice, then the second round, you add also green onion, then the last round, you add them all together in a bowl.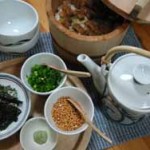 Usually you will get a small rice bowl for this.  It's one dish but you enjoy it by three different ways.  First time when I tried this dish, I was expecting fishy taste but it was not.  It was delicious. Their sauce was very sweet, so soup made the right balance.  Another restaurant I went, their sauce was less sweet, so the taste was good with just it is ( 1st & 2nd round ) .  After I add soup, it was too bland.
Eel liver is supposed to be good for eyes. My mother used to tell me that the reason for my bad eyesight is because she did not eat the liver when I was in her belly.   The pregnant women are recommended to eat the livers.   You can have it in a clear soup ( Osuimono ) which I do not like.  It looks disgusted.  I do not like a liver but when I have to, I try a small piece of well-grilled one with sweet sauce.  No bite, just swallow it.  But many people like it and its expensive dish in a restaurant.  However a regular grilled eel dish tastes good.
So, would you like to try a piece of Italian eel pie or Japanese Eel bowl ?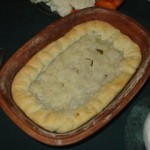 or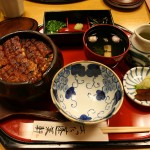 This is Japanese eel pie ( Unagi Pie or Unagi PAI- Japanese way  ).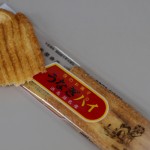 Hamamatsu, Shizuoka is famous for Unagi dishes. This is one of the popular Shizuoka souvenirs.  It does not taste eel at all.  It tastes like a butter biscuit. They made shape like an eel and put eel powder in it.   You do not taste it but you can get a little bit of stamina.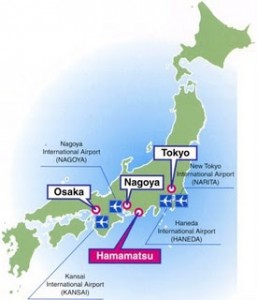 In the show, Rodney was introducing a fresh sea food market,  nice looking pizza and an espresso cafe.  To me, the thin crust pizza and coffee looks so good.  The scenery of Sardinia is so beautiful.  Because of all these fresh food, people in Sardinia live long.  I want to eat a lot there so I will need to do lots of exercise.  There are cycling tours and hiking tours.  It looks very interesting.  Sardinia is on my wish list for traveling now !
Where is Sardinia ?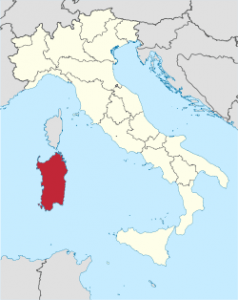 Example tours
CYCLING IN SARDINIA
Day 1 : Start from San Salvatore Sinis.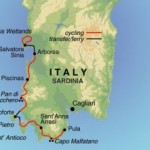 Day 2 : Circular ride through the fascinating Sinis wetlands to the white quartz beach of Is Arutas and the Phoenician ruins of Tharros.
Day 3 : After a short transfer to Arborea cycle through the natural beauty spots of the Costa Verde and on to the Piscinas beach with its sands dunes over 50m high – the highest in Europe!
Day 4 : Cycle past the abandoned mines of Ingortosu and Planusartu, the beautiful beach of Portixeddu and the impressive white sea-stack of Pan di Zucchero. Continue to the former mining village of Nebida overlooking the glassy blue sea.
Day 5 : After a beautiful descent to Fontanamare board the ferry to the fishing village of Carloforte and explore the delightful isle of Sant' Antioco.
Day 6 : Cycle through the lush meadows of Sant'Antioco, visit the Romanesque Pisan sanctuary in the little village of Tratalias and ride alongside Lake Monte Pranu before reaching Sant'Anna Arresi.
Day 7 : Cycle across the rolling plains of the fantastic Costa del Sud, a wild and unspoilt region of gleaming white beaches, coastal pools and imposing high cliffs. Climb up to the high point of Cape Malfatano for wonderful views of the coast.
Day 8 : End Pula.
Day 1 : Start from Dorgali.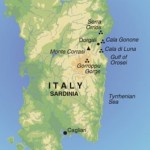 Day 2 : Introductory walk around Monte Tului with superb views across Gulf of Orosei and Supramonte.
Day 3 : Explore Nuraghic village of Serra Orrios, with its complex circular huts dating back to the Bronze Age; free afternoon to visit Dorgali's archaeological museum.
Day 4 : Visit Gorroppu Gorge, Italy's deepest natural canyon with breathtaking views.
Day 5 : Free day to explore Dorgali.
Day 6 : Walk around magical Tiscali Village, built inside a cave in Monte Corrasi, and visit the springs of Su Cologone.
Day 7 : Explore the caves and cliffs on our walk to the tranquil beach of Cala Luna; free afternoon for snorkelling, relaxing on the beach or walking through forests up to the beautiful canyon.
Day 8 : End Dorgali.