It's touristy!  BUT you should take pictures with Koala bear !!
Yes,  it is very touristy and any kind of photo things overcharges us.   But Currumbin Wildlife Sanctuary was not too bad.  They allowed me to use my own camera, too.   So they used a fancy camera to take a few pictures of me and Koala bear, then she used mine to take more so that I can keep the original.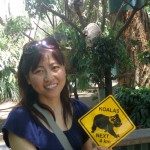 Actually I did not care for photos.  I just wanted to touch and hold the Koala bear.    In order to do that, I needed to take picture with him.  But I was so glad I did it!  He was so cute and soft.  Not like Kangaroos,  it is hard to spot Koala bear in the wild even I saw the sign " Warning for Koala bear crossing ".  It seems that Koala bears are everywhere but they are not!  I was looking for it everytime when I saw the signs.
On the other hand, Kangaroos are everywhere according to my Aussie boyfriend. Unfortunately I only saw a few live kangaroos jumping across the street in residential area.  I think I saw more dead one along the road.  Sad…
Surprisingly Kangaroos are also very soft.  I thought their hair is hard.   You cannot tell until you touch them!
I really liked  Currumbin Wildlife Sanctuary .  It's one of the things to do from Gold Coast, Australia.  The location is nice and quiet in natural setting.  Their Bird show is amazing to watch, too.  I did not think the birds can act!   There are many different kind of Kangaroos, crocodiles, birds, and also some entertainment. You can spend one full day easily.  Any age can enjoy, not only for kids.
Koalaberry … So cute, holding each other. But Look!! The one on top is poo on others! I am not quite sure if it is comfortable sitting on the tip of tree… ( the one in front )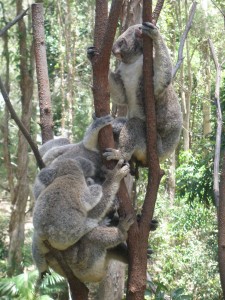 Kangaroo is crossing the street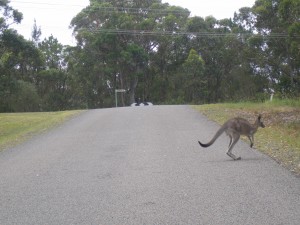 Isn't he so cute?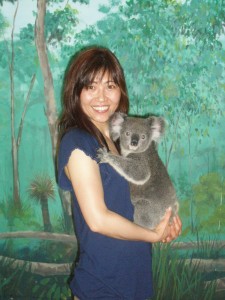 My next dream will be walking with Lion in Zimbabwe!  I saw a picture of the girl who is petting the lion.  It's kind of scary but it's neat!  This Kumuka tour includes Cheetah Farm & Lion Walk.   Cape, Delta & Mozambique Explorer .  Cheetah was my favorite when I was small.  It goes from Johannesburg to Cape Town via Victoria falls and Namibia ( runs also reverse itinerary )  .   There are a Delta, Falls, Beaches and Dunes.  Encountering animals, local people and beautiful scenery.  I enter their contest.  I hope I can win and take this trip 😉