Mae sai is a border town in Northern Thailand and Tachileik is a border town in Burma/Myanmar.
Many people I met did not like Mae Sai but I liked it.  They said it's just a small border town with full of junk shops. People just go there to extend their Thailand Visa. ( You get one month visa at the airport and 2 weeks at the border for free.  Visa extension within Thailand costs )  But to me, because of that, I was interested in looking at many different people, products and action.  It's a good place for people watching. I saw many nice cars parked at Tesco.  Yes, that's Tesco, British grocery shop.  Tesco is everywhere in Thailand now.  I did not see that last time I visited Thailand.  It's changed a lot.
Mae Sai is not only for shops and people watching but also the town has very peaceful river side and sleepy atmosphere.
I stayed at Mai Sai Guesthouse by the river.  It's located at very end of the small street from the heart of Mae Sai which just has one road,  passed the market along the river.  It was very peaceful.   I stayed at the cheapest room (200THB) with shared bathroom which has hot shower!  It was December, so it's nice to have hot shower.   They were not friendly as some of the web says, though.
The river is not wide at all and on the other side of the river is Burma.  Listening the noise from Burma and I felt, "Wow! the land divided into two different countries by this little river!? .  The life on the other side is different from this side? "  I am from an island of Japan.  This is strange to me.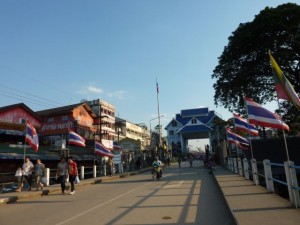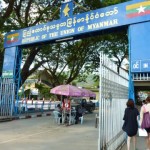 After meeting with a local operator we deal with ( it's nice to meet people who always e-mail but never seen before ) , I crossed the bridge and went to Tachileik, Burma.  The operator told me that visa is US $10 or 500THB.  At that time ( December 2011 ) , 1 USD was around 30THB.  So if you pay in Thai Baht, it will be around $17.  So he said I should pay in USD, of course.  But the officer at the border insisted me to pay in Thai Baht.  I told him that I was told it's US $10 and I did not bring 500THB.  He made me sit and wait for a while.  I showed him 200THB in my wallet and he finally accepted $10 and gave me a visa.  I've never put lots of cash in my wallet …. safety …  it also works for negotiation.
At the border, you will get a temporary card and you need to leave your passport. The card is good for a week or so and you can go to inland. I forgot how far but enough for hill tribe trekking for a few days which our local operator runs the tour.  Then when you come back to the bridge,  you go to the other side of office and pick up your passport.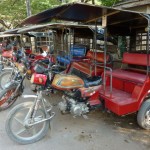 There are many taxi or bike drivers waiting for you to take a sightseeing for a few hours. You can visit pagodas and some sites within Tachileik (close to the border but it's far to walk around ) .  There is 30 minutes time difference and I did not want to end up on the other side of the bridge,  so I just wondered around the town and market.
Many Thai people go to this market for shopping, especially for cheap DVDs and CDs. Those are coming from China.  I saw many copies in China and Nepal but Tachileik was the cheapest.
They have many Korean TV shows, too.  Korean shows are very popular in Japan now and I was watching with my mother when I was in Japan for 3 months before traveling to South East Asia.  I was tempted but it may be just in Korean and Thai, plus it would be heavy to carry around.  So I did not buy it but finally I got " LOST" season 6!!  6 DVDs for 50THB!! 6 DVDs in one package, so it was not too big and heavy to carry around in my backpack.  I was so glad finally I got it because I was also looking at this in Nepal.   I just finish watching it and on the last DVD, I realized that CTV logo on the bottom corner which is Canadian TV station.   That's interesting.  Somebody taped or copied in Canada??
I walked up to the temple ( Wat Phra That Wai Dao ) on the hill in Mae Sai and enjoyed the view of both Burma and Thailand in Sunset.
A Brazilian backpacker I met in Chang Sean, he rent a motor bike and ride around Mae Sai.  He is another person who liked Mai Sai and showed me nice pictures of mountains and countryside of Mae Sai.
Mae Sai is not just a border town to get Visa.  You can stay 2~3 days to relax and enjoy the different food from street vendors.
Sticky Rice cook with Coconut Milk in Bamboo.
First I had this at the camp when I went to hill tribe trekking.  I love it!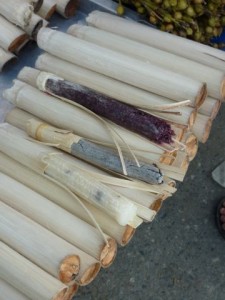 A vender on the Bridge.  I think sweet potato inside of the pancake. It was good.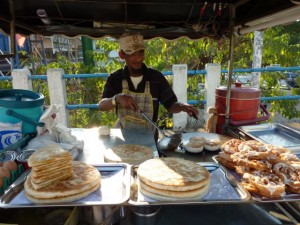 I did not try cakes but cookies were good ( in Mae Sai )
If you do not want to cross the bridge, you can see Burma from here.
The northern-most spot of Thailand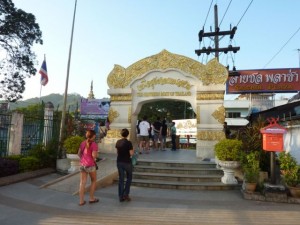 Small Local Market in Tachileik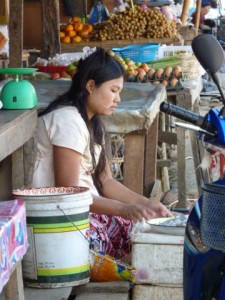 There are a few local stores for locals in Tachileik
Motorbike taxi drivers in orange waiting for business