Have you seen this movie called "

Vertical Limit

" ?
I was watching this movie on TV the other night.   I am not a climber but I can tell this is so unreal. My boyfriend is a mountaineer, he climbed Everest (8,848 m -29,029 ft) , Lhotse (8,516 m =27,940 ft) , Cho Oyu ( 8,201 m =26,906 ft) and so on , and he calls this  a joke movie.
Who can jump off to rope off all the way down to other side of cliff  at 26,000 feet ( = 7925 m)  ?
I don't think you can fly into 7925m and across a long rope over deep valley.  First of all, you need to acclimatize the altitude by climbing up from lower elevation.   Who put that rope anyway?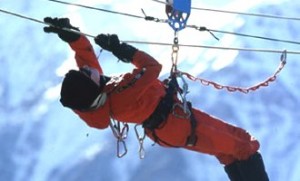 They do not wear a heavy down-suit.  They just carry a little backpack with no porters.  ( Even just going to K2 base camp, there will be so many porters carry necessary equipment) .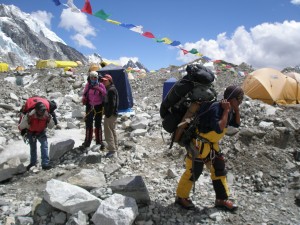 This is what a sherpa carries for a client ( climber ) .
There are still more tents and camping equipments at higher camps.
This bag is just for last push to summit.
It was super heavy!! I c

ould not even lift at all!
They ( in the movie )  expose hands, face and eyes.  You will get frostbite and snowblind !!
I heard many stories from my boyfriend and other climbers at Everest Base Camp and Kathmandu.  One of the sherpa tried to help his client and he needed to take off his gloves. In just a few second, he got frostbite and he lost 8 fingers. Another client took him to Spain and they put his toes to his hands and now he can hold a pen or something so he can work.  He run "Asmita B&B"  in Kathmandu.
When I was at base camp, a climber came down with very bad snowblind and frostbite.  I heard all the fingers are like huge sausages.  Even without taking off a goggle, from the air pressure or something, people can get temporary blindness. He could not see so he was slow.  That is why he got frostbite.
Another sherpa tried to help a client but he lost his mind from altitude and he punched the sherpa. He lost his goggle and he suffered from snow-blind when he came down.
My first time when I watched this movie, I realized only unreal scene but now I can see the details thanks to these stories.
One of the Everest expedition team members made this video. You can see what it looks like up there.   I heard she is very fit and climbed many mountains but she said it was very hard  challenge. She was planing to fly off  Everest with a paraglider but the weather was very bad and she could not try it, even she tried twice.  Somebody asked her if she was disappointed or if she wanted to try again. she said
She is happy that she summited

Everest and
ALIVE!!
Do you want to see more?
You can get a DVD. Vertical Limit