Speaking of

frostbite

, I heard sausage fingers should be fine.   It will heal but once

it gets black and hard, it's warning .
I met this great and very funny Canadian ( Laval St. Germain ) who climbed Mount Everest summit without oxygen last year in Tibet / Nepal. ( He is the first Canadian to summit without oxygen because another Canadian who tried earlier unfortunately passed away on his way back… ) .  He climbed from the Northside which has a base camp in Tibet.   I asked him what he felt up there. If he felt sick. Which I was already at 5400m.  He said he was not sick but he was very cold.  If you do not have enough oxygen, you will feel much colder than others who use oxygen. He is very strong even without oxygen and reached the summit first among his expedition team but he got frostbite.
This is his fingers.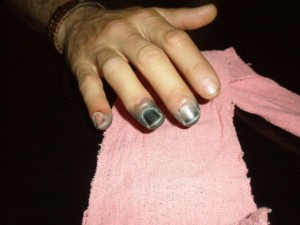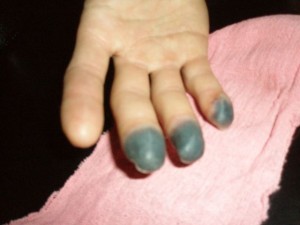 Now he lost the tip of fingers.
I admire his challenge and I may do the same thing if I am capable but I do not want my boyfriend to do it…
Treating his fingers in Kathmandu.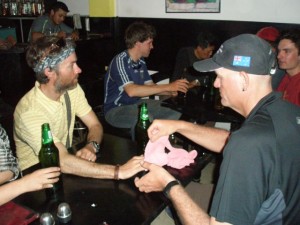 Before shot
After they climbed the Summit and came back to the base camp.  I was lucky to be there !! The first team in the base camp dining tent .  They are stronger and came back early.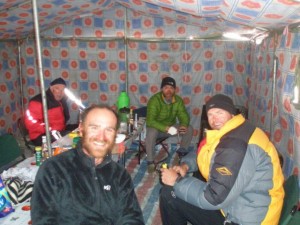 At Fire and Ice, a great pizza restaurant in Kathmandu.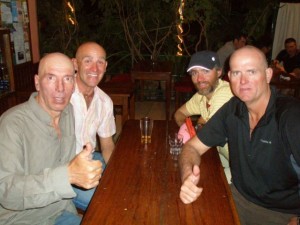 Both 1st & 2nd team celebrating their achievement.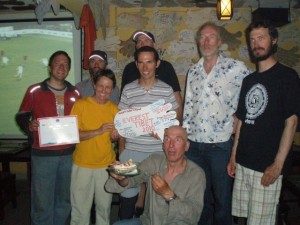 Summit Climb does not offer a guided climb. They have highly qualified expedition leaders. For climbing, a guide means somebody always be with you. One to one.   On the other hand, a leader will be around but he or she will look after a whole group, so it is not one to one.  They will assign a climbing Sherpa to support clients for summit day but one Sherpa may look after one or two climbers.  If clients want to have a personal Sherpa, then they can do so with extra fee.
Summit Climb offers an affordable expedition. Their tent and meal seems to be more basic than some of the others but off course safety is first, so nothing to scare about.  It seems that Expensive expedition company have nicer base camp tents and meal.  They includes 5 star hotel in Kathmandu.
So it seems that more experienced and laid-back climbers join Summit Climb expedition team. Summit climb has great strong Sherpas and their success rate seems to be higher than others.  When we came back to Kathmandu and ran into many other expedition teams, many of them said just a few climbers reached the summit.
At 5 star hotel, Yak & Yeti with Everest summiteer from another expedition team.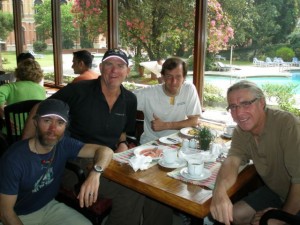 One in white, James Wilde, is a founder of Global H2O.  His charity organization supports people in Africa to provide clean water.  Also they help hospitals and schools.  Another inspiring climber.