My travel college counselor from Trinidad used to tell me ;
"Beaches in Vancouver is not the BEACH!!"
Maybe so, comparing beaches in Vancouver to blue water & white sand beaches in Trinidad.  But still, it's nice to be at the beach, looking at mountains and listening the wave.  The Beaches ( 8~10) is very busy with locals and tourists.  It's in downtown.  There are many cafes and restaurants near by.  Also you can ride a bike or rollerblade around Stanly Park.
I like Kitsilano ( 6 ) .  I can see mountains even while I am playing Tennis. ( the courts are bad, though )  I like quiet place to relax.  So I go to the beach or the small park between Kitsilano and Jericho ( 5 )  .
Jericho has a hostel.  This is my first roof I slept in when I came to Canada.  To go to downtown or eating is not convenience.  But it has nice view ! I remember I had a small bag of chips from a vending machine for first dinner in Canada..   It was not clean and it was dark.  Mattresses were all over.  I felt like sleeping in a prison but now it's clean and much better.
Jericho has Tennis courts, yacht club and a cafe .  Many people come to Spanish bank for barbecue in Summer.
I love to see the Sunset from the beach.  Vancouver has the most beautiful Sunset !!
4 Locarno
5 Jericho
7 Sunset
10 Third Beach
11 Trout Lake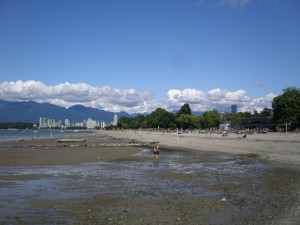 Kitsilano Beach
Between Kits and Jericho